Inscriptiones parietariae Pompeianae, Herculanenses, Stabianae selectae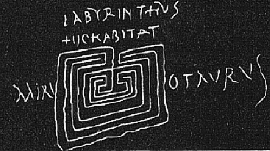 ---

M.HOLCONIUM PRISCUM II VIR.I.D.POMARI UNIVERSI CUM HELVIO VESTALE ROG. C.I.L 202
Alla frukthandlare jämte Helvius Vestalis förelår Marcus Holconius Priscus till borgmästare
All fruitsellers and Helvius Vestalis want M.Holconius Priscus as major
Exempel på en inscriptio picta (Dipinti)
Vanligen målad med röd färg
Dipinto usually painted in red.

Gaius Hadius Ventrio eques natus romanus inter beta et brassica. C.I.L 4533
Gaius Hadius Ventrio romersk riddare född mellan rova och kål
Gaius Hadrius Ventrio roman knight born between turnip and cabbage
Exempel på graphio scripta (graffiti)
Kratsat med något spetsigt föremål.
Graffito made with a sharp object.
Vibius Restitutus hic solus dormivit et Urbanam suam desiderabat. C.I.L 2146 g
Vibius Restitutus sov här ensam och längtade efter sin egen Urbana.
Vibius Restitutus slept here alone longing for his Urbana
---
Admiror, pariens, te non cecidisse ruinis, qui tot scriptorum taedia sustineas. C.I.L 1904
Det förundrar mig, vägg, att du inte rasat ihop du som måste stå ut med så många "klottrares" äckel.
Wall, I wonder why you haven´t gone to pieces having to stand so many writers nonsence
---
(Quis)quis amat valeat, pereat qui nescit amare, bis tanto pereat, quisquis amare vetat C.I.L 4091 (g)
Må det gå dem väl som kan älska och illa dem som inte kan och två gånger så mycket må det gå dem illa som förbjuder en att älska.
Long live all lovers and to hell with those who can´t and double curse for those who loving forbid.
---
Miximus in lecto, fateor, peccavimus, hospes, si dices "quare"? nulla matella fuit. C.I.L 4957
Vi har pissat i sängen, jag erkänner det, gästvän,vi har syndat och om du frågar varför så var det för att det inte fanns någon potta.
We have pissed in bed I admit, my host we have done wrong; if you ask why there wasn´t a chamberpot.
---
Proeliare Gangens Caesar te spectat
Kämpa Gangens, Caesar ser dig!
Fight Gangens, Caesar is watching you!
---
Puteolanis feliciter, omnibus Nucherinis felicia, et uncu Pompeianis, Petecusanis C.I.L 2183
Hell Puteolanarna och alla från Nucheria och kroken åt Pompeianarna och Pithecusanerna
( Ischia)
Long live people from Puteoli and Nucheria and the hook to Pompeians and Pithecusans.
---
C.Iulium Polybium aed.o.v.f. panem bonum fert. C.I.L 429
Rösta på C.Iulius Polybius till edil; han bakar gott bröd
Elect C.Iulius Polybius aedil; he is a good baker
---
Restitutus multas decepit sepe puellas. C.I.L. 5251 (g)
Restitutus har ofta bedragit många flickor
Restitutus has often deceived many girls
Översättning från latinet
Translation: Ö Rudstedt© all rights reserved
Back to Pagina Domestica Prima